Ozak GS535T
Brend:
Ozak
Kod proizvoda:
Ozak GS535T
Dostupnost:
Na lageru
GS535T
The GS535T full height turnstile tandem is designed to provide unsuper vised access control into, and cut of, high security facililies.
The impenetrable construction virtually eliminates any unauthorized entry to restricted areas, The rigid welded
stainless steel construction of the full height rotor turnstiles offers advanced reliability and vandal resistance,and
guarantees many years of the turnstile trouble-free operation even in unfavourable environments.
The rotor is manufactured in stainless steel and is available in either four section(90 degree) or three section
(120 degree) versions.
The use of electromagetic drive and mechanism ensure smooth and quiet operation as well as dynamic braking and
crossbars positioning.

Proizvod se poručuje rok isporuke je 15 - 45 dana
| | |
| --- | --- |
| Product Name | Tandem Full Height Turnstile(Double Walkway) |
| Size | 1630mm*1500mm*2310mm |
| Unlock | 0.2s |
| Throughout Rate | 35 person/minute |
| Lane's width | 600mm |
| Power Supply | 110v-240V |
| Power Rating | Standby or Passage 50Va (Alarm Condition 50Va) |
| Logic Voltage | 24Vdc |
| Orientation | Pass left or Pass Right |
| Drive | Manually Operated |
| Function | Passage in both directions, electronically controlled |
| Security | Passage through the "dead area" is prevented by stator bars |
| Power Failure | In the event of power failure, 2 methods to make the full height turnstile free for entry and exit |
| Operating Temperature | 0 to 55°C |
| Transportation and Storage | -25 to +55° C |
| Relative Humidity | 95% Maximum |
| Motor Voltage | 24V |
| Control Panel Voltage | 12V |
| Material | Stainless Steel, Mild Steel & Powder Coating (Optional) |
| Enviroment | -25-+70 |
| Power Consumption | 35W |
| Prectection level | IP54 |
| Material weight | 85Kgs |
| Frequency | 50~60hz |
| Input Signal | 12V Dry Contact, RS485, TCP/IP |
Features & Benefits
Heavy-duty high precision mechanism Nickel Plated for high corrosion resistance

Mechanism designed not to lock at 45°

Modular assembly provides fo moving turnstiles in through confined routes for final installation

Easy access to electronic control modules

Modular plug-in electronics provides for easy and quick repairs

Programmable electronic selections i.e. Auto relock after a predetermined time if no action is detected

Power failure options-unit remians locked or unlocked during power fail mode

On board conter unit standard-retrievable by hand held module

Remote mounting of control electronics possible A Self centering

mechanism to ensure complete rotation of the head to the rest position An anti backup device

prevents reverse rotation once the head has moved 30 degree from

its rest position A hydraulic damper to ensure smooth an quiet operation
What's our full height turnstile access control diagram?
How to install our full height turnstile(double walkway)?
Full Height Turnstile GS535 Installation Steps:
Please fix the full height turnstile as marked number one by one

Please take care to get rid of collision and deformation during installation

Please fix screws between housing and the support
Note: The label on the part is the order of the assembly
What's our full height turnstile dimension layout?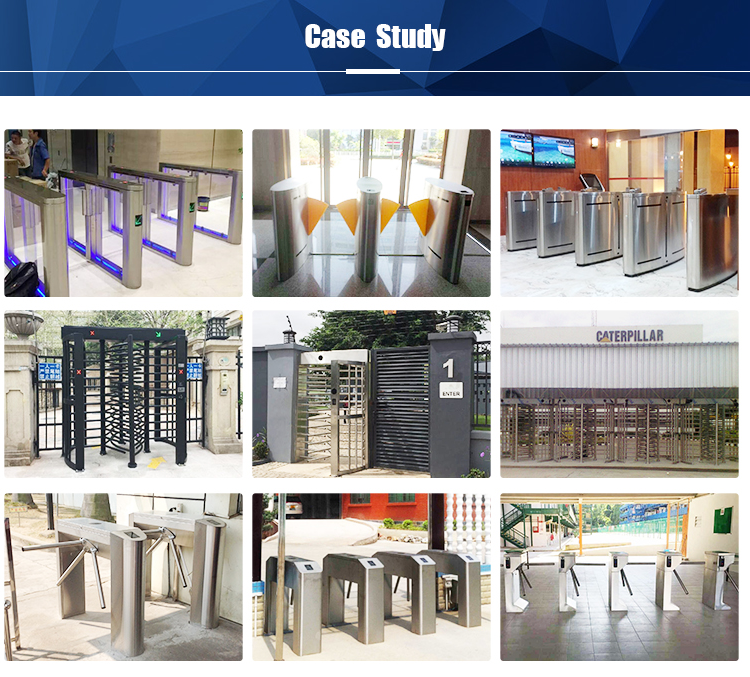 Slicni proizvodi: