BOSE Bose Companion 20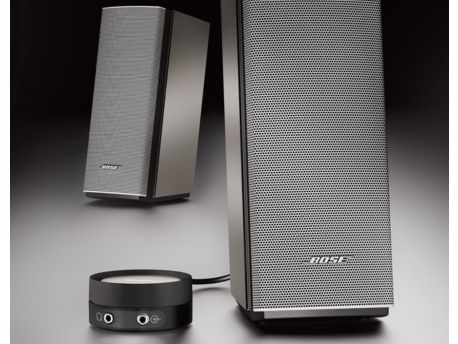 Brend:
BOSE
Kod proizvoda:
BOSE Bose Companion 20
Dostupnost:
Na lageru
Cena: 43,554.00 RSD
Bez PDV-a: 36,295.00 RSD
Powerful sound. From just two speakers.
Dramatically improve the audio from your computer with Bose® Companion 20 speakers. Our best two-piece computer speaker system reproduces full, natural sound whether you're inches from the screen or way across the room.
Sleek, space-saving design complements your computer
TrueSpace® technology reproduces wide, natural sound for music, games and videos
Control pod for volume, mute, headphone jack and auxiliary input
Proprietary technology and an advanced port design make your music, games and videos come alive with striking clarity and impressive low notes at any volume. And all that sound pours from just two speakers—no need for a bass module. With a few quick connections, you can enjoy the wealth of content on your computer with rich Bose sound.
An advanced port design and powerful drivers are key to the low-note performance that adds depth to music, games and videos. Anyone listening for the first time might scan the floor for a subwoofer, but there's none to be found. All the sound comes from just two sleek speakers.
A unique control pod pairs a fair amount of function with its form. The pod features rotational volume control and one-touch mute functionality, plus convenient dual inputs for connecting headphones and/or a second audio source.
Features
Proprietary TrueSpace® stereo digital processing circuitry creates a wide two-channel soundstage engineered specifically for listening at your computer.
Versatile control pod features rotational volume control, single-touch mute, headphone jack and connection for a second audio source, such as an MP3 player or a tablet.
Advanced port design and driver deliver powerful low-note performance and full, natural sound that fills the room.
Proprietary integrated signal processing delivers lifelike performance at almost any volume level.
Active electronic equalization balances low, mid and high frequencies for more natural tone and clarity.
Dimensions/Weight
Each speaker:

8.66"H x 3.54"W x 4.72"D (6 lbs)

Pair in carton:

6 lbs
In the box
Left speaker

Right speaker

Speaker cable

Audio cable

Power pack and cable

AC power cord

Control pod and cable
Slicni proizvodi: