Ozak 505 E-D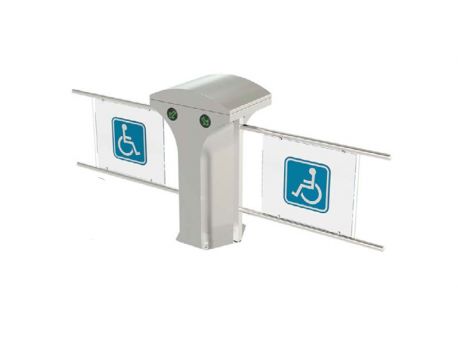 Brend:
Ozak
Kod proizvoda:
Ozak 505 E-D
Dostupnost:
Na lageru
Cena: 394,485.00 RSD
Bez PDV-a: 328,737.50 RSD
Wing gate turnstile with a distinctive body shape, suitable for passages of VIP's and passages with wheelchair, trolley, push chair.
Besides to be used as a stand alone gate, it can be used as a complementary unit along with tripod turnstiles.
Practical solution providing double passage lanes with installation of a single unit.
Power Requirements

:

110/220V. 60/50Hz. AC (%±10) 24V. DC at standby ~22W. max. ~ 130W.

Wing Features

:

Double-sided. Available in 450 or 900mm standard lengths. Ø40mmx2mm 304-Grade stainless steel wing frame with plexiglas panel. (Opt. anodised hard aluminium wing frame).

Body Features

:

1,5mm 304-Grade (Opt. 316-Grade) stainless steel brushed (Opt. Satin) surface.

Operating Temperature,
Humidity, IP Rating, MCBF

:

20°C to +68°C (Opt. -50°C with heater unit), RH 95% non-condensing / IP 56 Outdoor Model / 1M Cycles

Control System

:

All inputs are opto-coupler protected. Compatible with all access control systems that provide dry contact or grounding outputs. Optional RS232/RS485/TCP IP control module is available.

Operation

:

Electronically controlled DC motor driven bi-directional system.

Emergency Mode

:

System allows free passage in emergency mode and in case of power failure.

Flow Rate

:

Capacity of Mechanism (Motorized System): ~6-120 passages/minute (for double sided=*2); Nominal: ~15 passages-per-minute (for double sided=*2) (Recommended reference figure). *Utilisation of different access control units can change the flow rate.

Standard Features

:

Direction and status indicators

Optional Accessories
and Applications

:

Remote control units, interface unit for PC, RS485, RS232 and LAN, counter, audio-messaging system, alarm sensor, heater positive unit, coin slot/intelligent coin system and coin box, card reader pole, pipe barrier (Separator), floor mounting plate, customised top covers to accommodate various accessories.

Slicni proizvodi: